Discover a new way of life without traveling a mile.
ARE YOU READY TO…
-find the Sacred in the ordinary?
-experience God in new ways?
-use your resources for good?
-immerse yourself in culture?
-become centered and rooted?
-ask questions and name longings?
-reveal your True Self and connect with the Divine?
Pilgrimage is A Sacred Journey—a movement that brings us toward the Divine.
For thousands of years, seekers have set out on journeys to far-off lands, eager to encounter God, learn more of their True Selves, and experience transformation. However, you don't have to leave home to be a pilgrim. To live like a pilgrim at home, all you need to do is see your life as a journey and your role as a Seeker of the Sacred.
Start journeying with the intention of a pilgrim each day with the Pilgrim Principles Online Course.
The Pilgrim Principles Online Course follows the Pilgrim Principles Rule of Life—a set of seven values and guidelines to help you cultivate the awareness and intention of a pilgrim in your personal journey, daily routine, community, and more. Join a vibrant community of fellow seekers this fall on a seven-week online journey as we explore this Rule together and practice the pilgrim's way of life each and every day.
WHAT WE'LL EXPLORE
7 principles • 7 journeys • 7 modules • 7 weeks
For seven weeks, we'll travel together through each of the seven Pilgrim Principles, unpacking each principle with five distinct themes designed to further your journey. Each week will begin with an introduction to the theme and a breath prayer for the week, followed by five daily lessons with practices to put the lesson into action and prompts to further your exploration.
Week 1: A Pilgrim Looks for the Sacred in the Quotidian
The pilgrim knows they don't have to journey to a far-off land to experience God; the Sacred can be found in the ordinary or "quotidian" each day with a little awareness and intention. In week one, we'll explore the many aspects of everyday life, including home, work, community, relationships, and minutiae, and discern where the Sacred is already present.
Week 2: A Pilgrim Practices Somatic Spirituality
For the pilgrim, the practice of pilgrimage is first and foremost an outer physical experience that initiates an inner spiritual journey. In week two, like the pilgrim, we'll seek out spiritual experience by way of our bodies as we explore the five senses: sight, hearing, touch, smell, and taste.
Week 3: A Pilgrim Is a Good Steward of Resources
The pilgrim isn't a consumeristic tourist but a practical seeker who knows what they've been given and how to steward their resources wisely on the journey. In week six, we'll tend to the resources of everyday life, including time, money, abilities, possessions, and the environment.
Week 4: A Pilgrim Immerses Themselves in Culture
No matter where they find themselves, the pilgrim seeks to be fully present and is eager to learn from all that surrounds them. In week four, we'll seek out immersion and explore the elements that make up a culture right at home, including location, language, customs, food, and beliefs.
Week 5: A Pilgrim Establishes Daily Rhythms to Ground Themselves
Whether at home or abroad, the pilgrim knows the value of having daily practices and touchstones to return to each day. In week five, we'll talk about ways to become grounded in body, mind, soul, spirit, and presence.
Week 6: A Pilgrim Carries Themselves with Curiosity
Curiosity is an essential trait for the pilgrim, for without curiosity, there would be no journey to begin with. In week six, we'll cultivate our curiosity through openness, wonder, desire, pursuit, and delight.
Week 7: A Pilgrim Seeks to Know Their Inner Witness
Ultimately, the pilgrim's journey is about connecting to their True Self and the Divine. During our final week and journey together, we'll integrate all that we've learned and connect to that place of the Inner Witness where True Self and Divine meet through acceptance, discovery, insight, intuition, and alignment.
OUR GATHERING SPACE
Throughout the week you'll be invited to share your experience with Lacy and your fellow pilgrims in our private Facebook group. At the end of each week, we'll gather together on Facebook for a live session with Lacy featuring ways to take your journey further and a guided spiritual practice to review where the week has taken you and prepare your heart for the journey that awaits. Can't make it to the live session? The discussions and sessions will be available on Facebook whenever you're ready for them so you can journey at the pace that best suits your schedule.
VOICES ALONG THE WAY
Each week we'll also profile a pilgrim, practitioner, or guide whose work embodies one of the Pilgrim Principles, including Jenn Giles Kemper, Whitney Simpson, Dan Cumberland, Ryan Kuja, Emily P. Freeman, Dan Allender, and Christine Valters Paintner.
YOUR GUIDE FOR THE JOURNEY
Your guide here at A Sacred Journey, Lacy Clark Ellman holds a Masters degree in Theology and Culture and a certificate in Spiritual Direction and was selected as a New Contemplative by Spiritual Directors International in 2015. Professionally, she is a spiritual director, facilitator, and guide who speaks the language of pilgrimage and is always ready for the next adventure, having traveled to over twenty countries on four continents. Personally, she is a lover of food, books, spirituality, growing and making things, far-off places and lovely spaces. While traveling, you'll find her wandering museums and markets, exploring cities by foot, and sampling local fare. At home in Seattle, WA, she loves to garden, take walks in the nearby forest, and go on armchair journeys through her favorite shows from across the pond.
WHAT'S INCLUDED
Want a quick review? Here's what's included in the Pilgrim Principles Online Course:
7 weeks of content with 7 modules and 42 lessons delivered to your inbox
42 prompts for reflection
50+ practices to take you further
7 profiles of leading pilgrims, practitioners, and guides
7 Facebook Live sessions with Lacy
7 themed breath prayers and an audio guide
A vibrant community of fellow pilgrims accessible throughout the duration of the course
Plus, a bonus course on crafting meaningful mornings!
about the bonus course
When you register today you'll get the Crafting a Meaningful Morning Course for free. (PDF; a $30 value.) A popular course previously offered at A Sacred Journey, Crafting a Meaningful Morning is now exclusively available to Pilgrim Principles Online Course participants. You can download Crafting a Meaningful Morning in PDF form immediately after you register for the Pilgrim Principles Online Course so you can practice carving out space for the journey before we begin.
You'll also be supporting the journey of another.
Everyone deserves a home of their own. Your registration for the Pilgrim Principles Online Course includes a donation to Habitat for Humanity, a global nonprofit organization working with families to provide decent and affordable housing.
Registration is now closed.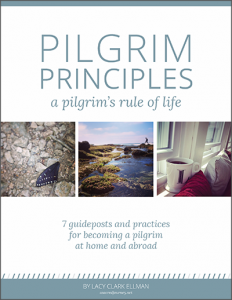 Registration for the Pilgrim Principles Online Course is currently closed. Sign up below to find out when the course will be offered again and receive updates on other offerings, products, and free resources from A Sacred Journey so you don't miss a thing. When you do, you'll instantly receive a downloadable PDF of my rule of life written with the pilgrim in mind, Pilgrim Principles, which inspired the Pilgrim Principles Online Course and includes seven guideposts and practices for living and traveling like a pilgrim.
Privacy Guarantee: Your information will never be shared. View Privacy Policy.
PRAISE FROM OTHER GUIDES

"Lacy weaves classic pilgrimage wisdom with fresh, accessible insight…. [This course] is the perfect pilgrim's pack—filled with essentials, necessities, and a touch of surprise!"
Kayce S. Hughlett
liveittogiveit.me

"Lacy provides holistic guidance to experience daily life as an earthly pilgrimage. [This course] is a field guide for the pilgrim's soul and a sacred tool for transformation for those seeking ways to enrich their inner and outer journeys."
Sybil Dana Reynolds
sybildanareynolds.com

"Lacy has the provocative ability to blend the Sacred and the practical, the spiritual and the everyday, in wisdom-full and passionate ways…. She takes you by the hand (and heart), gently guiding you with prose, prayer, and praxis."
Ronna Detrick
ronnadetrick.com
FAQS
Who is this course for?
The Pilgrim Principles Online Course is for anyone who feels drawn to live with more awareness and intention and incorporate the practice of pilgrimage into their everyday life. While some of the content will include Christian-specific language, seekers from all faith backgrounds are welcome.
How is this different from the Pilgrim Principles Rule of Life I received when signing up for updates at asacredjourney.net?
The Pilgrim Principles Rule of Life received when you sign up for updates at asacredjourney.net is simply an introduction to the Pilgrim Principles Rule of Life. Built upon that foundation, the Pilgrim Principles Online Course is an in-depth and communal experience to help you more fully live out the Pilgrim Principles Rule of Life and practice pilgrimage each and every day. While the free Pilgrim Principles Rule of Life you received is a sampling, this online course is like a full seven-course meal shared around the table with fellow travelers. And who doesn't want a feast?
How is this different from the previously released book, Pilgrim Principles: Journeying with Intention in Everyday Life?
While the structure of the Pilgrim Principles Online Course has been lifted from the book Pilgrim Principles: Journeying with Intention in Everyday Life (no longer in print) and some of the categories remain the same, much of the content has been updated and revised, offering a complete enhancement of the original material with multiple new additions thrown in. Plus, when you participate in the Pilgrim Principles Online Course you'll get access to our online community of pilgrims and seven live sessions with Lacy—an opportunity that has never been available before.
Why is the group forum based on Facebook?
While Facebook can have its downsides, I've decided to use Facebook groups because it's simply the best way to connect, with many participants already visiting Facebook on a regular basis and excellent tools available for conversations and live video. If you're interested in the course but don't want to use Facebook, you will still greatly benefit from the course material—you'll only miss out on the community element and live sessions. You can also create a private Facebook account and use it exclusively for this group without having to worry about other aspects of Facebook. Learn how to create a private account here.
I'll be doing some traveling during of the course. If I sign up will I miss out on some of the content?
The course material will be delivered daily to your inbox and is yours to keep upon receipt. While as a community we'll be journeying together week by week, you're welcome to journey through the content at your own pace and connect with the community when you can. Because the Pilgrim Principles Online Course is only run on a limited basis, however, if you're interested in participating in any way, it's best to register this time around, as I don't know when I'll be offering it next.
How much time should I set aside each week to fully engage the course material?
Daily lessons are delivered in email form and can be easily read in 10 minutes. How you engage further is up to you. Each lesson contains a prompt for journaling and an invitation to practice what you've learned, and you'll also be invited each day to share your process with the community, where conversations on the material will be happening every day. Facebook Live sessions at the end of the week will be about 15-30 minutes long, will involve a spiritual practice, and will always be available for later viewing after the session is complete if you can't be there live. While it's recommended to spend at least 30 minutes a day to fully engage in the material (a perfect way to start the day—think of it as part of your morning ritual), there are many ways to benefit from the material that still suit your schedule and daily life.
What if the course isn't for me? Are refunds available?
If you find that Pilgrim Principles isn't for you during the first 30 days, simply contact Lacy to share why the course didn't work for you and she'll gladly offer you a full refund.